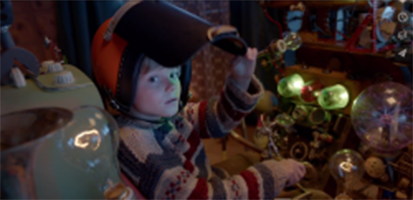 Some people just can't wait for Christmas. Kids espcially find it hard to wait. In this cute (yes, I said the dreaded c word for creatives) commerical for Milka chocolates by Wieden + Kennedy Amsterdam, one kid decides he doesn't have to wait. It opens with the kid taking a chocolate from the first date in a Milka advent calendar. He then looks at Christmas eve on the calendar and wishes it would come sooner. The idea strikes him to build a time machine. He heads out into town pulling his sled behind him to find parts to build his machine. Once he's assembled his machine he sets the date for December 24 and fires it up.
The noise of the machine draws the rest of the family in to see what's going on. They see what he's doing and decide to make his wish come true. They hurry to put up a tree, decorate the house and put presents together. When the boy believes his trip is done, he comes out of his room to see the place has indeed been transformed to the Christmas eve celebration.
The spot is beautifully shot and art directed. The whole story is told through visuals and music. There is no talking or voiceover in the entire spot – which is part of it's charm. So, here it is, my early holiday present to you. Enjoy!
Milka – The Time Machine from Wieden+Kennedy Amsterdam on Vimeo.
If you have an idea for Ad of the Week – just drop me a line here in the comments or via our social channels.
Mike McClure, wanting my own time machine