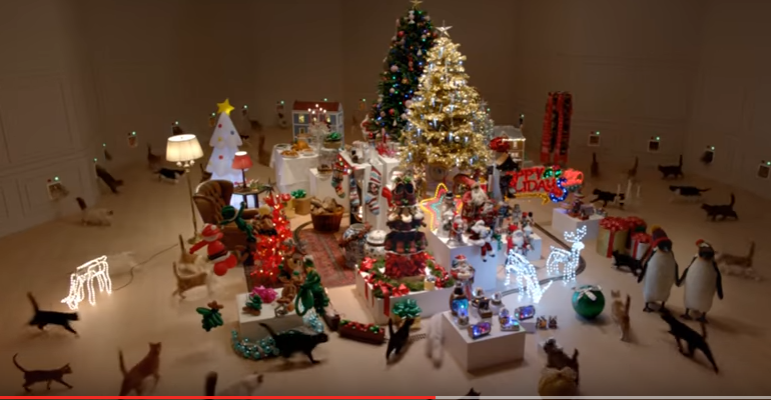 Yes, it's a bit early for a Christmas ad (well, not really if you've watched TV recently) but I figured everyone could use a good chuckle today. I know we're a divided nation this morning – cat people vs dog people – but this is one cat commercial even us dog people can get behind. It's the latest offering from Temptations Cat Treats, who have created fun Christmas spots before.
This year's spot features a white test room full of everything festive for the holidays you might have in your home that could tempt your cat to run amok and create havoc. Trees with lights flashing, train sets going, Christas bulbs and bobbles, a turkey dinner, packages, even coo-coo clocks. All around the room little glass windows are spaced where the cats watch intently like businessmen at a live sex show.
Suddenly the lights flash and all the glass window open. Hordes of cats descend upon the room, tearing things apart with reckless abandon. Until suddenly they hear the shaking of a treats bag and all run out of the room to get some. As we view the destruction they've wrought, we are told to "keep them busy this holiday season." Presumably with Temptations cat treats.
 Temptations Cat Treatss – Keep Them Busy
It's a fun romp that cat people will totally get and dog people can enjoy too – being thankful they have dogs. There. We're all back together again. You're welcome. And thank you to Laurel from accounting who shared the spot with me
Mike McClure – feeling festive already